Norway Newsletter (english)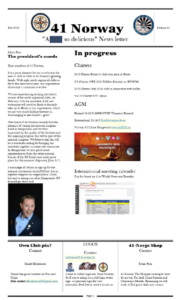 Whoops You Have to be careful!
We really want to promote local publications from the countries that are members of 41 INTERNATIONAL, but there is a problem! Translating it into English.

Pontus Eriksson, the Norwegian editor recently forwarded his latest newsletter to me. Unfortunately, very few international readers speak fluent Norwegian so he had kindly put it through a translator. He pointed out that a certain word in the subtitle was not what it
usually means in Norwegian. In fact, it is the title of a Norwegian national song. I was a little surprised and I mentioned it to President Tom, a fellow Norwegian and he instantly laughed as he guessed what I was about to say.

Here is a photograph of the front cover with the word redacted. If you want to see the full unedited newsletter, then click on the photo.
You have been warned! Link