Fire Engines for Ukraine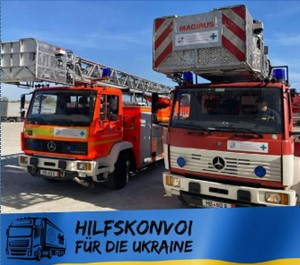 Handing over more vehicles for Ukraine
There has been war in Ukraine for almost eight months now – and we continue to help wherever we can….
This week we were able to hand over another four vehicles in total: two fire trucks and two cars, some of which were purchased from your donations and some of which were given to the convoy as a kind donation.
Vanessa Holdysz, Christopher Jöhren, Jurgis Prasse, Matthias Leye, Thomas Szczepanski, Alexander Damm and Marco Meiners transferred the vehicles to Lviv.
The firefighting vehicles will be forwarded from Lviv and the two cars will be used to bring care packages from the central camp to the front and to people in remote areas.
We are impressed and grateful for the amazing donations!
Do you have contacts or know of other possible donations? Then feel free to contact us!