Help – Kerala Flood Disaster
Dear 41-er's,41 International members, Presidents!
We got dramatic e-Mails from 41 and RT friends in Kerala/India!They are victims and also in the forefront of the helping organisations on Kayaks or dinghies and packing relief materials day and night.
They need help now!!
The 41 International family can help-must help-and will help!!
41 Clubs of India with President Harsh Segal ( see below) request us to channel all contributions to the "ROUND TABLE INDIA TRUST "and send him the details so 41 Clubs India can keep a track and can report!
I thank you and it's my personal concern that you support our friends in India!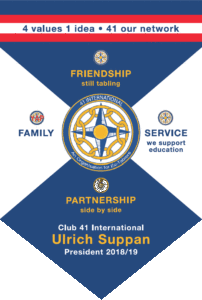 Ulrich Suppan
41 International President
2018/19
Mobil. +43 6643417339
4 values 1 idea – 41 our network
---
Dear 41ers & Tablers,
Greeting from the Association of 41 Clubs Of India!
As we are all aware, The State of Kerala, India has been struck by the worst ever monsoon fury since 1924.
The loss of life and property has reached unimaginable proportions.
As always, 41 Clubs Of India & Round Table India have risen to the occasion and tablers in Kerala have been in the forefront of relief and rescue operations, with scores of Tablers and 41ers physically working on ground zero to provide succour to the thousands of victims of nature's fury.
I request you all to please support this effort by way of financial contributions or in any other manner you deem fit.
I also request you to channel all contributions to the Round Table India Trust and send me the details so we can keep a track.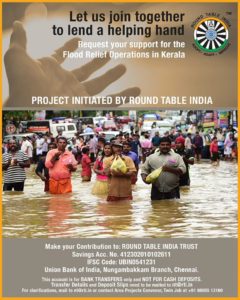 Contributions can be sent by way of Transfer to:
Round Table India Trust
Name of Bank
Indian Overseas Bank
Address of Bank:
No:109 Utthamar Gandhi Salai
Nungambakkam
Chennai-600 034
Account No.
018301000021223
Bank Swift Code
IOBAINBB001
RTGS/NEFT Code (IFSC):
IOBA0000183
MICR Code:
6000 20007
FCRA
Regards,
YIT
Harsh Sehgal
President
Association Of 41 Clubs Of India