Report: Ascoli Piceno, Italy. Annual Pork Festival 2018 [Bob Parton]
Ascoli Piceno, Italy. Annual Pork Festival 2018
19th – 21 January 2018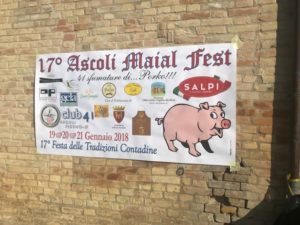 The timing of this annual event, which was first presented in 2000 the year of the millennium, always the first weekend in January after Saint Antonius day (anno 251? – 356) which is 17th of January.
Well it all started when we all met for dinner on Friday evening in the area of the inn "Porta Solesta" dress code was informal (dress up as you wish) so it all got off into a very friendly atmosphere , which marked the spirit for the whole Weekend.
We were fed with various pieces of Pork in every possible variation, Steaks, Ribs, Prosciutto hams, Sausages, Bacon Slices and pork Trotters softened with Wine, Beer and Water which were plentifully and available included for the whole evening.
read more: Ascoli Piceno Annual Pork Festival 2018
I had the feeling that everybody said they will book again for next year 18-20 January 2019, me for sure with Gisela, and I think Margaretta Schirmer as well.
24th January 2018
Bob Parton
Honorary Member Club 41 Italy