Lets Hear Foundation [Bruce McKay]
Who We Are
The founder of the Let's Hear Foundation, Bruce McKay has a long history of hearing impediments and also suffers from menieres disease. During February of 2014 Bruce realised that there just is not enough been done to assist persons with hearing impediments so after consulting various specialists and getting a great team of advisors together, the Let's Hear Foundtaion was formed during March 2014.
What we Do
The aim of the foundation is to assist persons with hearing impediments no matter the age or cultural backgrounds in which ever form possible, including fund raising for cochlear implants, fitting of hearing aids and providing as much information as possible in order to assist persons to not only identitfy hearing loss but also how to live and treat persons with hearing impediments.
Further to that we are establishing an interactive blog where you can share your stories and ask questions that can be answered by our very able advisory panelas well as other.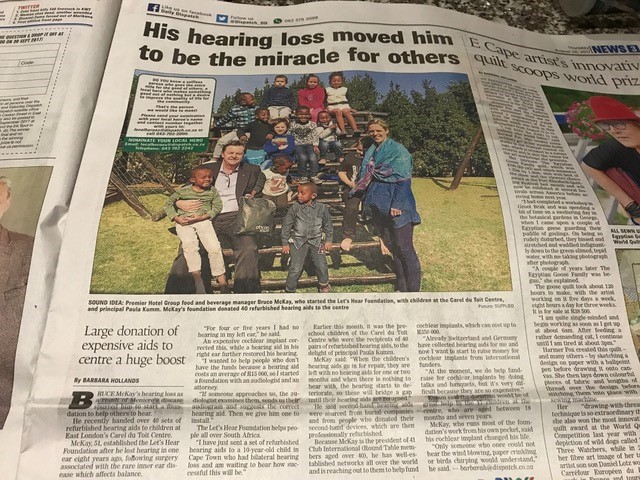 What We Want To Achieve
As a foundation we would like to create awareness to the general public about hearing loss through communication and information as well as fund raising events. we would like to see persons with hearing impediments, no matter how serious they are to be treated with respect and acknowledged for the role they play in our society.
Get Involved
There are many ways for you as an individual and/or a company to become involved in supporting our foundation and what we do. here are some of the ways to assist.
If you have an old hearing aid, the type that fits behind the ear, no matter how old you can send it to us. We will assess the said hearing aid and if at all possible repair it, load it onto our database and then make them available to someone who is matched to the selection criteria for assistance from our foundtaion.
You can share your stories on our facebook page at https://www.facebook.com/Lets-Hear-Foundation-790605384370993/which is linked to our website. All our stories that we share can offer hope to all those out there that are struggling to come to terms with their hearing impediments and also with diseases like Menieres Disease.
As our Foundation is reliant on your contributions, you are more than welcome to make monetary donations into our bank account as a once off donation or you can sign a debit order for a monthly contribution.
BANK DETAILS
ACCOUNT NAME: MAJESTIC TRUST t/a LET'S HEAR FOUNDATION
BANK NAME: FIRST NATIONAL BANK
BRANCH: BERGVILLE
BRANCH NUMBER: 220 625
ACCOUNT NUMBER: 620 121 07 290
INTERNATIONAL SWIFT CODE: FIRN ZA JJ
REFERENCE: NAME/COMPANY
Regards,
Bruce McKay
Founder
Mobile. +27 (0) 82 557 6533
Skype chef.bruce
http://www.linkedin.com/profile/view?id=46695028&trk=tab_pro