The 41 Club Cyprus AGM 2017 in Paphos – WOW WHAT A GREAT TIME…! [Bruce McKay]
My Fellow 41 International Members,
Although visiting Cyprus on many previous occasions, this visit was the first Country AGM I attended as the International President and boy oh boy was it great.
When arriving at International departures at OR Tambo in Johannesburg I was alerted by my travel agent that due to the issues between Qatar, Saudi Arabia and the UAE my flight plan had changed. I could either cancel my flight and book another or I could arrive in Cyprus on Saturday afternoon around 14h00. Well needless to say I scurried around and finally managed to get a seat on the Emirates flight to Larnaca. Very tense and frustrated at this point I went through to Duty Free and emend up in the lounge enjoying a few gin and tonics. This definitely assisted in bringing on that relaxed feeling.
After a great flight to Larnaca I arrived safe and sound to be greeted by a very friendly taxi driver who drove me to Pafos. On the way I leanrt from the taxi driver that prior to my arrival he had taken his car for a wash and during this event the washing equipmenthad got stuck in the front grid of the car and caused some serious damage and that the owner of the car wash just seemed to laugh it off. Anyway an hour and half later I arrived in Pafos and checked into the hotel. The hotel was nice and quaint. A quick shower, email catch up and then off to the AGM hotel to meet up with Alex and Yvette Abela. Once there we enjoyed a few Pina Colada's and were then joined by Petros and George from Cyprus.
On Friday night I was collected by George and whisked off to was celebrate an evening of friendship and fellowship in true Cypriot style tavern. It was typical Cypriot meze with far too much to eat with a lot of wine flowing. It was great meeting up with old friends and meeting some new ones. Notably David Illingworth was not present but he was at the Netherlands AGM in Sneek.
On Saturday, early morning we met at a coffee/shop bar after breakfast for the morning walking town tour. It was really an interesting tour explaining the entire idea and Pafos 2017 European Capital of Culture project. Pafos had won the bid to become the European Capital of Culture in 2012 and building commenced. The plan is for Pafos 2017 to bring together cultures from all over Europe through 150 projects and 300 activities. It is amazing to see the transformation of the inner city taking place…Good Luck Cyprus.
For lunch we went to a well-known seafood restaurant and believe you me there was enough seafood, again served in true Cypriot meze style with lots of beer and oozo to go around. It was then time to rush back to the hotel, freshen up with a quick shower and change for the AGM.
The AGM commenced at around 16h00. It was really wonderful to see the fantastic relationship between 41 Club Cyprus and Ladies Circle Cyprus. This was a joint AGM where I first addressed the Ladies Circle Cyprus after which I addressed the 41 Club Cyprus AGM. The AGM was well attended and a lot of business was discussed. After myself and the other speakers had addressed the meeting we departed as the rest would be in Greek. I discussed the various points as per my address with the new board in a more social environment after the meeting. There is great interest in the one name strategy, suggestions will also be forthcoming for the HYM workshop which was well received. Everyone agreed that we need to become more relevant and the new President Andreas will ensure that they send through some ideas with regard to this. It was also brought to my attention that Cyprus would like to host the HYM 2020 and I hereby request that Mika send through to President Andreas Haviaras the procedure to be followed with the correct documentation.
The evening Presidents banquet started with pre-dinner drinks in the foyer of the banquet hall. The venue was elegantly decorated in whites and pastels. The food was spectacular and a most enjoyable culinary journey was experienced by all. The hospitality and festivity was simply marvelous. The night enjoyed dancing, drinking and all round fellowship until the early house of the morning. To finish off the superb event, a few of us went out into the streets of Pafos to experience some of the night life.
On Sunday, we spent a lazy day at the hotel and then Petros and his family spoilt me to a great lunch before whisking me off to Larnaca for the flight home.
This is an experience and AGM weekend that I will not forget. Thank you to Petros, George, Andreas, Pavlos and everyone else involved in making my stay so fantastic. Cyprus 41 Club is healthy and growing. You are the best….Yamas!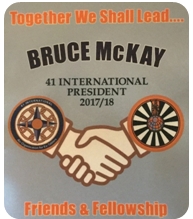 YICF,
Bruce McKay
International President 2017-2018
41 International
TOGETHER WE SHALL LEAD…..THROUGH FRIENDS AND FELLOWSHIP