Report AGM Germany in Rust [Ulrich Suppan]
My first trip al 41 international President was to visit my friends in Germany – like in the official politics – to the "big" neighbour!
The AGM take place in Rust/Baden Würthenberg.
The European Park Rust is German largest theme park with roller costers, technical attractivities, etc. and hotels, with about 8 million visitors a year.
From 11.-13. May the 41ers were a part of these.
The get together on Friday: a meeting with many friends, excellent food, wine and also 41 "political" talks with friends of Germany, Swiss and France.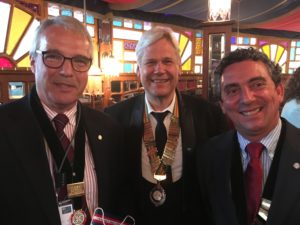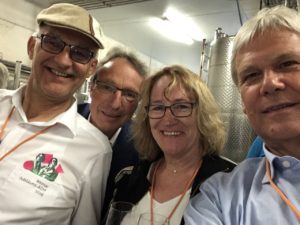 Saturday at the AGM with about 200 delegates president Norbert Frei acclaimed foreign guests from Austria, Switzerland, Italy, Belgium, Portugal, Malta and 4 members from the France board, who got standing ovations. In my speech I also declared that we and France will make a big effort this year that France will come back to our international family. In the moment Germany has about 6000 members and 265 clubs and they grow 5 to 6 clubs per year. Beside GB & I with more than 15000, Germany is the second strongest member in 41 international. Next year Germany celebrate the 50 anniversary in Weimar, the town of Goethe and Schiller.
One of the discussions was the name change from "Old-Tabler" to "tablers 41". They don't want to named any longer "old" because they are really active, strong and have a good link to RT and service projects.
After AGM the delegates visit a wonderful winery with excellent wine and not only therefore the atmosphere at the Banner Change and the Presidents Bankett was brilliant.
In a round big festive top we celebrate an evening with eating (salmon and asparagus) wine and dancing. After changing the colours whole 41 family worldwide wish the new president Georg Pfaff a wonderful club year with the main values: friendship, partnership, family and service: 4 values – 1 idea: 41 our platform
Ulrich Suppan
International President
more & Picture from the AGM in Rust, Germany
AGM 2018 in Rust – alles über das AGM Berichte, Bilder und Präsentationen!