CHARITY PIN 2017/2018 Bruce McKay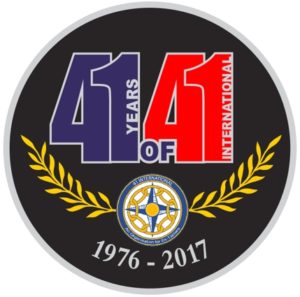 On an annual basis the 41 International President designs a pin to sell to 41'ers and Tablers at all AGMs, Meetings etc. The money derived from this Charity pin is then utilised to support an International disaster that may have taken place during his year. As an example during the last two years there was the disaster in Nepal and last year of course the earthquake in Italy and on both occasions thousands of people were left homeless. 41 International then joined hands with Round Table International and donated the earnings from the selling of the Charity pin to the respective disasters.
With our close relationship with Round Table, the last two years pin has seen a design indicating both the 41 International and the Round Table International rondel, symbolising our great Friendship. This year was my turn to decide on what I would like to do and what design I would like use. Now many of you might not know but 41 International was formed during 1975 and during 2016, we as an International Association celebrated 41 years of 41 International….to me the year 2016 symbolised something special, something I believe needed to be remembered and I therefore decided to create a pin that would allow the memory of this fantastic association and its special existence be celebrated through the making of a pin reflecting just this.
It does not reflect the Round Table rondel but our two organisations strength lies in our Support, Friendship and Fellowship shared amongst all its members. My Presidents banner depicts exactly that and through the shaking of hands indicates the Friendship & Fellowship created through a bond that will never be broken.
I now humbly request all of you to buy one, two or even more of the once in a lifetime Charity Pin. All funds raised will go to a worthy cause at the end of my Presidents Year.
Thank you all for your support so far during my year and I look forward to seeing you all on my travels…with the pins of course!
Regards and YICF,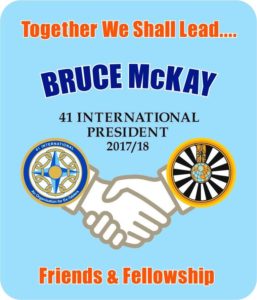 Mobile. +27 (0) 82 557 6533
Skype chef.bruce
http://www.linkedin.com/profile/view?id=46695028&trk=tab_pro