Invitation: AGM Germany in Cologne on the weekend 19-21 May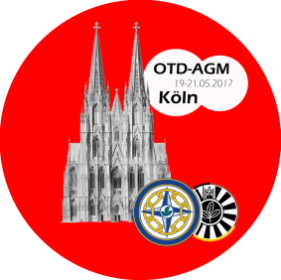 Dear international Tablers,
We hope the message did spread: The German AGM 2017 will take place in Cologne on the weekend 19-21 May!!! We are pleased to be the hosting table and we kindly invite you all to come to Cologne and spend a great AGM with us!
We have booked some of the greatest locations for Friday and Saturday. There will also be a broad range of interesting activities on Saturday. For further details please have a look at the brochure (download link 'AGM 2017 Flyer' on the website). It is in German and English and provides you with all the details including hotels, program, registration etc.
Here are the highlights for you:
Welcome in the Rheinterrassen with a great view on the cathedral:
The Rheinterrassen is a truely special location with an unusual architecture and a fantastic scenery. We will enjoy the setset with beach atmosphere.
Convention of Delegates at the University of Cologne:
Located in the middle of the city this is the right place for our convention. We are in the lecture hall where normally future doctors are being educated or big international congresses take place.
Gala-Dinner at the Flora in the Botanic Garden:
The Flora Köln is a place where trational and modern architecture create a truely historical building. The magnificent ballroom provides the perfect place for our Gala-Dinner!
On Saturday we offer a variety of guided tours for example to the Cathedral, to Cologne Old Town, to the brewing housed or several museums.
We have reserved rooms in a number of hotels with special AGM offers. You will find the details on the website. Please be aware that most reservations expire end March/early April. So don't wait too long.
The Ice Hockey World Cup is in Cologne that weekend. So please book now and be quick and safe your accommodation.
Please find all informationen around the AGM and the registration on our website http://www.old-tablers-germany.de/agm-2017/ There is also a guest list with the current registrations.
We made a little movie to give you an idea what you can expect. We hope you enjoy it as much as we did enjoy producing it!
https://www.dropbox.com/s/ffd107uwlf0ypmq/UBI%20BENE%20IBI%20COLONIA_f%C3%BCr%20AGM16_HD1080p.mov?dl=0
We are really looking forward to welcoming you in Cologne!!
Kind regards & a big yi(o)t
Your Tablers of OT65