President 41 International – 41 Club Belgium AGM 2016 in Eupen [Engelbert Friedsam]
… just a "hopp" behind the German border
Dear Tablers,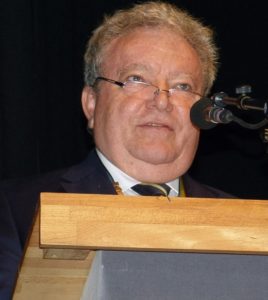 As you can imagine I am receiving many mails about 41 International matters, so of course also from our friends in Belgium. Especially Jean Claude, the 41 Club President of Belgium reminded me continuously to make sure that i can come to "his" 41 Club AGM to Eupen. "Engelbert, Eupen is just 3 hours from Frankfurt, so easy to come… I take care and register you, so no hustle for you… just relax and come to my AGM. Karin and Jean-Claude are just great people! True Tablers! When we arrive in Eupen on Friday we start the welcome with Belgium "Eupen beer" brewed to the German "Reinheitsgebot", so without chemicals. Monika and I feel instantly at home :-)!!
Our expectations in regard to drinks and food in Belgium are high – but what we are experiencing at the Friday night dinner is exceptional! Especially the food… Whow! Yes, this is Belgium! Then a big surprise: Carnival music starts to play (we recognize this immediately, as Monika and I are living in an area in Germany where Carnival is celebrated….) – inviting to join-in singing and clapping… the party is on! Then suddenly the Carnival dancers are arriving on stage and push the party to highest level. Everybody is standing up, singing, clapping , dancing…  what a party J! The Eupen "Funken-Mariechen" (young teenager) is doing the typical flip-overs, showing her beauty… big applause!! Then Jan-Claude and the convenor is called up together with myself. We get awarded with the 2016 carnival medal of Eupen :-)!  The "la-la" is following spontaneously by the audience. This is probably unique for a 41 International President receiving this medal.
The business meeting turns out to be interesting as Belgium had copied from GB&I the green – yellow – red light system for controlling the speakers. Nearly all speakers including myself had to suffer because after the red light the microphone is switched off after less than 3 minutes. You could only get back the microphone working after the sergant of arms is successful with his penalty (a cocktail drink based on Baileys…). As the business meeting is held mainly in French I use the time to update Luc Trigaux on 41 International matters.
Picture source: http://41clubsagm.be/en/photo.php
Before the banner exchange I meet with the new board of 41 Club Belgium under the new President Didier to go through 41 International topics and also get an update on the situation of 41 Club Belgium. Key message is that the relationship with Belgium Round Table is very good and there is quite a lot of joint activity. We also share quite some ideas how the 41ers can help to identify candidates for Round Table, especially how these candidates should be approached and how we can motivate them to join. There is lots of good thinking coming up through the discussions in the associations. I will address this at the HYM in Bangalore and share the thinking and approach.
Monika and I enjoy the gala evening very much. The food is excellent and we can  use the evening to TALK as the band plays really great music in a not too loud manner.
I am just back home from the Poland AGM. Only 2 days to go… then taking off to the 41 International HYM in Bangalore. Our Swiss friends Albrecht Seltmann and Gerrie are with us at our place enjoying the evening with great food, some champagne and wine, having a good start for the upcoming trip. We are on the same flight tomorrow to Bangalore.  See you guys there :-)!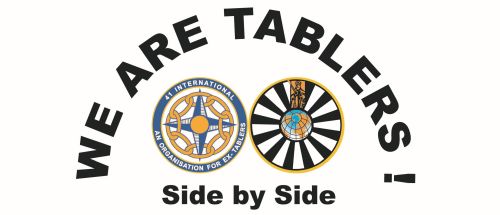 We are all Tablers!
YiT
Engelbert Friedsam
41 International President 2016 – 2017