President 41 International – visit 41 Club South Africa AGM [Engelbert Friedsam]
41 Club South Africa AGM 2016 – a weekend with good old friends
Dear Tablers,
Just a few days after returning from the RTI Meeting in Kathmandu I am on my way to the next AGM at van Reenen, South Africa. This time Monika does not join, as she is managing some topics at home that we could not take care of because of continuous travel.
I am picked up at Johannesburg Airport by Zeet Borrageiro, the Regalia Officer of 41 Club SA. Bruce McKay and Tanja arrive at the same time, so we jointly arrive at Zeet's home where we are nicely welcomed by Zeet's wife Ursula. I use the time to update Bruce and synchronize on 41 International matters. After a great dinner we are on the way to van Reenen. After 3 hours drive and lots of sharing thoughts on tabling matters we arrive at van Reenen where we are welcomed by Andre de Villiers, the 41 Club SA Vice President together with members of  the organizing committee.
The weekend activities like clay pigeon shooting are nicely placed in the program without rushing from one event to the next, so we have a relaxing weekend with friends. The fun night made us stay up long with great fun and fellowship. Next morning it is a challenge to get up early and be ready for the Business Meeting. John Marshall, the outgoing 41 Club SA President leads through the agenda. One key theme is about what 41 Club SA can do to attract more Round Tablers to join 41 Club. There was quite some discussion on the reasons why leaving Round Tablers do not join 41 Club. The conclusion was that the 41 Clubs lack on attractiveness and have to change to be more active and improve the relationship with RT. The discussions show that there is now a lot of focus to get closer to RT. In his speech the RT VP encouraged the members of 41 Club SA to actively approach their Round Table and start working together. Round Table SA is fully supporting joint activities.  John Marshall asked the audience to take this initiative back to the home Tables and start acting.  WE will see how it develops!
At the gala evening I refresh long lasting Tabler friendships. I feel being at home.  On Sunday farewell we start early for the 3 hour trip to catch my flight back home to Frankfurt. A great weekend with great Tablers – a trip to the very south of Africa worthwhile J!
I am now back from the visit to the Morocco 41 AGM. Again my report will come soon… Just busy now to move on to visit the Belgium 41 Club AGM…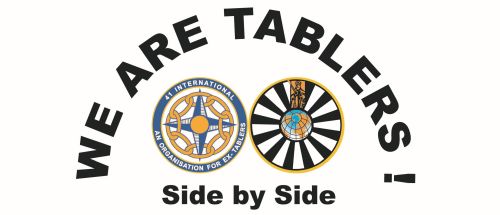 We are all Tablers!
YiT
Engelbert Friedsam
41 International President 2016 – 2017
Picture: Christoph Weimann, IRO Germany