Project of reconstruction after earthquake in Italy [Alberto Ivo Dormio]
A 6.2 magnitude earthquake struck the Apennine regions of central Italy (Rieti and in the Valle del Tronto) on Wednesday August 24th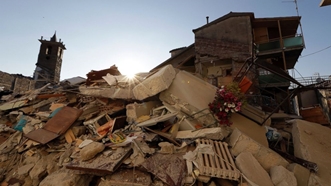 Dear Members of Club 41 International
Nearly 1,000 aftershocks have rocked the area straddling the regions of Umbria, Marche and Lazio in the central Apennine mountains since the original quake in the early hours of Wednesday.
The people dead are 294 and most of them were in Amatrice.
The disaster of the earthquake faces us with a decision to be taken in respect of the land and the population concerned.
We want to give a concrete help that can help make their lives better in the reconstruction phase. There will be so many things to do, and our intention is not to make a mere donation in monetary terms, but to identify one or a few critical situations on which channel all our efforts, that will obviously go on for many times.
Our project will be carried on with Round Table, Agora Club, Ladies circle Club.
But nothing will be enough, so we need your help!
The Club 41 in Ascoli Piceno, in this regard, will be our pro-earthquake outpost, in the sense that, given its local presence and commitment that many members are already making, will keep us updated on immediate and future needs of the lands affected.
The Club 41 Italy therefore asks all international members to give their contribute for the reconstruction.
c / c payable to: CLUB 41 ITALY
causal EARTHQUAKE OF REATINO
IBAN: IT88G 01005 33710 00000 0000827
SWIFT code: BNLIITRR
YIC
Alberto Ivo Dormio
National President Club 41 Italy
ARQUATA DEL TRONTO