India Magazin 41 Connect September 2016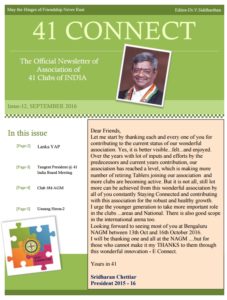 Dear Friends,
Let me start by thanking each and every one of you for contributing to the current status of our wonderful association. Yes, it is better visible…felt…and enjoyed. Over the years with lot of inputs and efforts by the predecessors and current years contribution, our association has reached a level, which is making more number of retiring Tablers joining our association and more clubs are becoming active. But it is not all, still lot more can be achieved from this wonderful association by all of you constantly Staying Connected and contributing with this association for the robust and healthy growth. I urge the younger generation to take more important role in the clubs …areas and National. There is also good scope in the international arena too.
Looking forward to seeing most of you at Bengaluru NAGM between 13th Oct and 16th October 2016. I will be thanking one and all at the NAGM ….but for those who cannot make it my THANKS to them through this wonderful innovation – E Connect.
Yours in 41
Sridharan Chettiar
President 2015 – 16