Club41/Old Tablers Euro Meeting in Scotland with Tablers from France, England, Scotland, Germany [Stefan Warnke]
Friday, September 16, 2016:
After many months of planning and preparation (thanks to Reinhard), OT97 Burg Frankenstein was ready to follow Club41 Peterhead's invitation to come to this year's Euro Meeting which was going to take place in Inverness, the beautiful place close to the famous Loch Ness.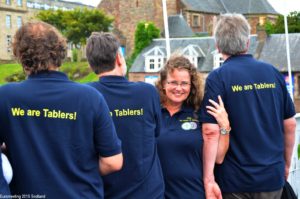 All of us (Ulrike & Fabian, Lennard & Peter, Reinhard, Stefan) got up around 4:00 AM to start our journey to Scotland. Pretty tired but in good spirits we arrived in Inverness for a quick window shopping and a lunch in the city.
The official event started at 7:00 PM at the Phoenix Ale House where we met many good old and some new friends from Scotland, England, France and the Old Tablers from Oldenburg, Germany. In addition, members from Club41 Inverness took part. We shared some drinks (or more), dined and most of all, enjoyed each other's company. The night ended way too fast.
Saturday, September 17, 2016:
Early next morning, we all met at the Glenmohr Hotel in order to start the cruise on the Loch Ness canal and the lake. The weather was beautiful, sunny and mild – as always in Scotland J. Unfortunately, we did not see the monster from Loch Ness. However, one club member said referring to his spouse: "I do not have to see the monster any more, it is sitting next to me."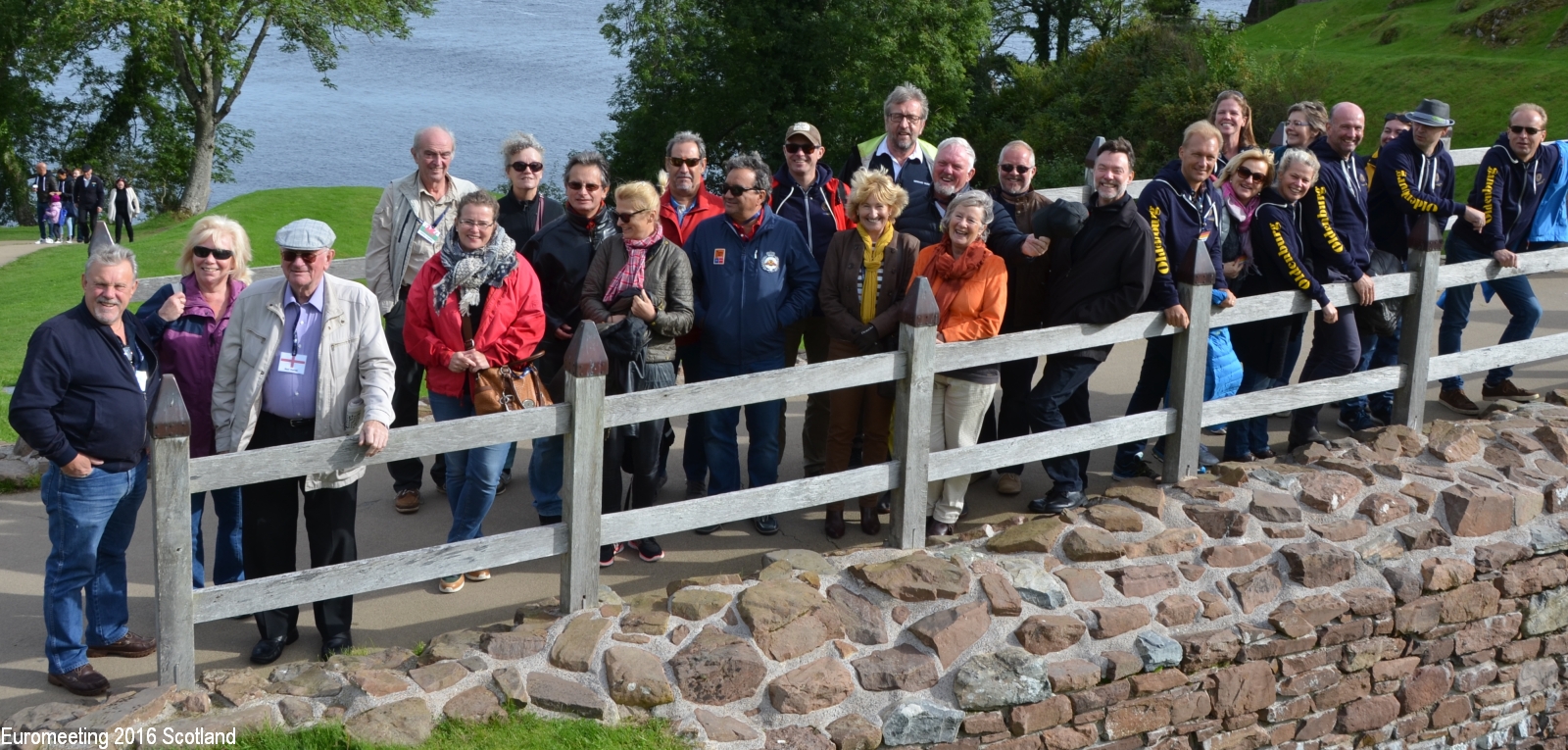 Included in the Saturday event was a castle tour to the famous Urquhart castle. This castle was built at a strategicly important location at the shore of Loch Ness lake which gave the inhabitants control over the Great Glen area. In 1692 this castle was burnt down and discarded.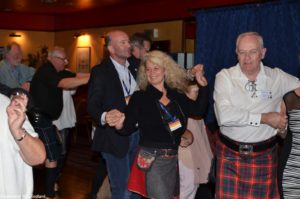 After a short rest, in the evening we all met at the Royal British Legion in a private room with a band playing. Following the British tradition, fish and chips were being served. All nations presented their sketches, the performances rating from being from obnoxious (us) to genial (the Scotsmen). Laughs guaranteed.
Then the dancing started. All foreigners – including the English – had to learn the traditional Scottish dances which was a lot of fun. Of course, we all continued to have good conversations with everybody.
In parallel, we had the Presidents meeting with the following outcome:
EM 2017 by Old Tablers Oldenburg: planned for the 3rd Saturday in September, also depending on other events taking place in Oldenburg in September. Mirko Onken, the president of OT Oldenburg, will notify all of us with a quick report of the weekend (in German language)
EM 2018 by Club41 England
EM 2019 by our French friends
Maximum 54 participants at an EM (also because of bus capacity)
Due to the British laws, we had to leave the location shortly after midnight. What a shame. So, we were "forced" to have a little night cap in the hotel
Sunday, September 18, 2016:
After a quick breakfast, we walked to the Beaufort Hotel where we all met to say good bye to each other. Most of us had a long travel back home. Again, we have had a wonderful weekend with our friends from Club41 and again, the weekend has past well too fast. Many thanks to our hosts who had enabled this fantastic Euro Meeting 2016. We are looking forward to meet each other again at the Euro Meeting 2017 in Oldenburg.
YiT
Stefan
President OT97, Burg Frankenstein
Pictures taken and arranged by Fabian