41 International President Engelbert address to 41 Club of Romania 2016 AGM at Craiova [Engelbert Friedsam]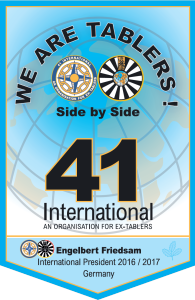 Dear President Gheorghe, dear 41 Club Board, dear fellow 41ers,
Greetings from the 41 International Board and our 25 member countries! Unfortunately this year we are not able to participate in person your AGM as I am committed to go to the 41 Club Morocco AGM. I therefore have asked the Old Tablers Germany President Peter Weiss to give the address speech in my name.  I promise to make best effort to come with Monika to your AGM next year!
First of all I thank you very much for your active participation on 41 International matters. Only jointly we can move forward and improve the organization and develop further into a bright future. Also I say thank you for our fellowship and friendship J!!
Let me just raise a few important topics:
Website: With the new 41 international website operational, it should be easy to avoid having two national 41 Club AGMs on the same weekend. in the future, as the information on the website is continuously updated you can identify a weekend for your AGM. So please have a look before you schedule the next AGM. First come – first serve!
41 International AGM at Landshut: There is good news on the development of our wonderful organization. The 41 International 2016 AGM in Landshut attracted more visitors than ever before. Nearly 460 Tablers / Oldies joined the event and experienced a thrilling weekend with prior Pre-Tours to enjoy fun and fellowship, simply "took a bath in Tabling spirit" J! Of course there has been the Business part as well, but also this part was heavily used to exchange information and finally ended in voting on several topics.
Extension: Suriname brought its application for membership forward, Portugal is in the pipeline for next year. The 41 International community is growing and expanding to further countries step by step. Although we are very happy and excited for the growth of our organization, a lot of work is still needed to be done.
Organization: Mika from Finland has been voted for Secretary following Sid, who has been doing over the last 4 years a fantastic job, including working hard on the communication initiates. He has been issuing the monthly Communique, which is positively received by all members around the world. As we have to further improve active communication as one identified strategic topic, the 41 International Board has asked Sid to fill the role of Communication Manager to focus on distributing regularly latest news and work with the associations editors on this.
Lign-up on Presidency: Decision has been made on the chain of incoming Vice-Presidency. After South Africa and Austria, Belgium will take Presidency.
Finally a few words on the program for my presidential year. First of all there will be NO change of strategy and direction on what we have been building and following over the last 3 years. We have jointly delivered, the 41 International Board, many associations and we are continuing to deliver on the topics we have defined in our Strategic Plan. The Strategic Plan is still the guidance and direction we are moving. The identified action items are the focus. A lot has been already achieved as presented by Makarios in his outgoing speech at the AGM in Landshut. I do not go into the details. All this information can be viewed and downloaded from the 41 International Website.
The board was and is very much focused on further improvement of the relationship with RTI.  The board has given guidance to the associations to do the same with their respective RT organizations. The initial discussions on the national MoUs and the related 10 point action plans have helped in each national organization to come closer between the organizations and start doing joint activities. In case you have not done this in your national association, please work on this. The agreed actions have to practically follow! Please start reporting on your "working together" achievements to Sid for communication. Also upload this onto your section in the new 41 International website.
The YAP program is developing well. With the short version of the YAP program initiated from Cyprus by Makarios, where a small group of youngsters are traveling it is much easier to handle such a tour, so also manageable by smaller countries. The news from th just finished YAP Tour is that it is a great success and for sure complements the big tours to India and South Africa. This is an opportunity for you to look into this and decide to participate.
There is one additional topic stated in the Strategy Plan that I have chosen to start working on it in my presidential year: The harmonization of our name.
Why is this topic important for the future of our organization?
A short summary of thought and reflection: on association level we have developed away from each other over the years. Some call themselves 41 Club, some Old Tablers, some Ex-Tablers, some Tablers +, etc. Reality is that we have no global unique identifier looking from the outside world to our international organization. We are not known in the public. On top of that we struggle to explain what we are. Successful organizations have a set of common objectives and very importantly one common name, which is basically one word as identifier: Lions, Rotary, Kiwani, Zonta, … all have chosen one word. We need to look into this and address the issue.
A common set of objectives combined with a common name will help enormously to marked us globally and surface our organization in the public.  To start the discussion on this topic, I have selected this topic for the workshop at the 2016 HYM in Bangalore / India. The importance of this topic have inspired me in defining my presidential motto: We are Tablers! No matter if we are Round Tablers or 41ers!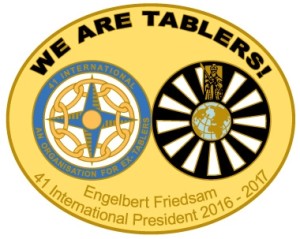 Charity Pin for sale:  I am very proud and honored to continue with the use of the Side by Side Round Table International and 41 International logos on my banner and also on my pin. I have decided to follow the way that my predecessor Makarios has started doing. I am selling this pin for 5 Euro. I hope to raise with this action carried out in my Presidents year about 6500 Euro, which will be used for a charity project decided together with RTI. Makarios has raised during his year 5000 Euro with his sale. The money has been handed over to RT Nepal supporting the "all4Nepal" project, rebuilding damaged or destroyed schools to enable education. I sell the pin for 5 Euro. It would b great to do a order list of interested  Tablers / 4ers. I will hand over the ordered pins to the representatives of 41 Romania at the HYM in Bnagalore. If possible pay the pin in advance, so that I get the money in Bangalore.
Dear fellow Tablers (Round or Old),
As a summary my message is short: Please focus and continue working actively with your Round Table organization on national and club level!  This will ensure that both organizations will have a bright future!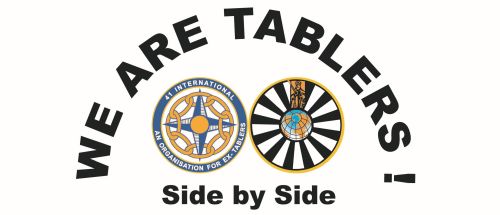 Together we are much stronger.
We are Tablers!
Have a great Business Meeting and AGM!
Yicf
Engelbert Friedsam
41 International President 2016 – 2017