President 41 International – Suriname [Engelbert Friedsam]
11.08.2016
Dear Tablers,
This report is a little lengthy as there is lots to tell…
Suriname joined as new 41 International Member at the last 41 International AGM in Landshut, I promised in the discussions with the Suriname 40+ Club President Francisco Samson (called Pancho) and Treasurer Bryan Renten that I will try to fit the Suriname 40 + AGM date in my President travel calendar. The Suriname AGM was scheduled on the same weekend together with the celebration of 60 years of RT Suriname. Monika and I decided to start the visit a couple of days earlier to get a feeling for the culture of this far away country in the North of South America, but also to have enough face off time and communication with the members of RT and 40+ Suriname.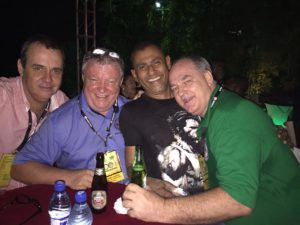 When we arrive after a long flight at Suriname International Airport near Paramaribo, the capital of Suriname, Pancho and Bryan are already waiting for us. Great hugging and off we go downtown Paramaribo. We are home-hosted by the 40+ Table Member Patrick Healy in the best spot of the old downtown quarter, which is under UNESCO protection because of the original houses made of wood in typical Dutch style from colony times.  The apartment is perfect for our stay. The evening starts very well with quite some RT and 40+ Tablers joining for dinner. Also about 27 Tablers and 41ers from Netherlands, Austria and Germany have made the long way to join. Trinidad is also present as they are just chartering their Round Table and Suriname is the godfather.   About Suriname I am learning that there are about 26 Round Tablers in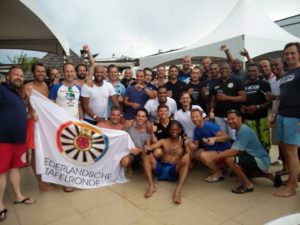 the club and in 40+ there are more than 60 former Round Tablers. They work together in nearly all activities and each member of both clubs knows all RT and 40+ members. They have been joining forces since the beginning in 1971 of the 40+ Club in Suriname. I am surprised and impressed that such a small association is working so well. With these words in mind I looked for prove during our stay and I can tell upfront that Suriname acts in the best way of Tabling and exactly what 41 International is promoting together with RTI in regard to teaming up.
Some examples: Friday jungle-drive with about 10 pick-up trucks. RT and 40+ jointly. We end up at a very special place at a small creek in the middle of jungle green. The place is obviously used regularly for barbeques. The water of the creek is "cola"-brown but very clean. It invites to get in and cool down as there is an air temperature of about 35  degrees and very humid. All necessary tools, foods and drinks are on the trucks, so the barbeque is quickly set up and we all enjoy. All this is done by RT and 40+ Members with lots of fun and fellowship. Great Tabling at its best! In the evening the registration and welcome party with about 50 participants is arranged of course as a joint event at a Round Tablers house. The veranda and garden is the ideal spot, obviously with great food and drinks. The music is loud… the neighbors obviously warned, so no complaints happening…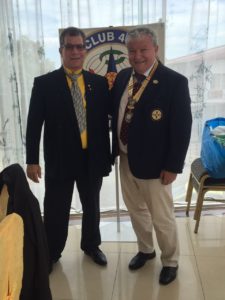 Saturday. The business meeting AGM. Also RT Suriname participating, as well as the international visitors.  The meeting is from the beginning very entertaining with lots of fun. Indeed!! Pancho has an agenda, but is impacted by lots of comments where the Sergeant of Arms has a lot of action to keep the meeting focused. The voting for the new board is taken as a given, so the new board is simply announced by Pancho. Suriname RT is actively participating. Again it is obvious that the teaming between the two clubs is absolutely great.
Some Tablers of RT and 40+ miss the business meeting as they have to prepare for the "BuBu" Party in the evening, especially to mix the most demanded cocktail "BuBu". This annual recurring party organized and sponsored by RT and 40+ Suriname is legendary in Suriname's society, especially with young people.  The key drink "BuBu" is a cocktail based on rum, invented about 12 years ago by a Tabler, called Bryan Jurgens.  When we arrive at the party place at about 9:00pm there is everything prepared. Three bars and the music podium are ready and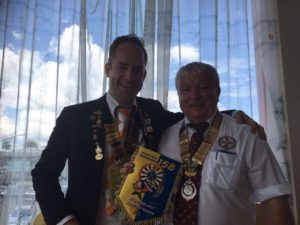 manned with Tablers (RT and 40+). Of course we have to taste this BuBu cocktail and I must say it is terrific! The bars are busy and the music is super.  I am curious how many people will come to this event… and get the answer from Patrick, my host, that there are up to 2000 people expected to have fun at this fundraising social event. And it happened!!! A continuous flow of people over the next 3 hours is lining up at the entrance to get through the security check. The place is finally packed with people from the society of Paramaribo, of course also the Tablers and friends are present – Monika and I are deeply impressed about the reputation of the Tablers of Suriname in the society. What a great example what Table can achieve!
By the way the resulting money is used to support orphan homes and Kinder garden environments to allow the staff a day off and arrange substitute support to cover the necessary day to day operation. This is the annual key recurring project of RT and 40+ Suriname called KiKeWeCo, and started 50 years ago.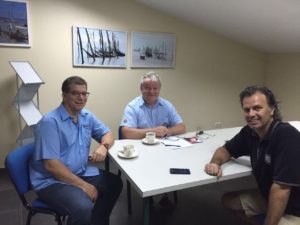 The farewell on Sunday is happening at the pool, many AGM participants arrive with some delay because the BuBu-Party finished at about 4:30am in the morning. Everybody is in very good mood; the weekend was perfect with great Tabling throughout! Lots of contacts were made and friendship has developed between the joiners of this AGM.
It has been a fantastic weekend, for sure beyond all expectations I had. It is not my only visit to this association where Tabling is in such great shape, where action is happening and members are so motivated.  Well done guys! Your association is definitely an example for many of us! Together we are much stronger! This is a living example J!!
By the way, Trinidad Round Table is chartered in September… an opportunity to go there and experience Round Table the South America / Caribbean way!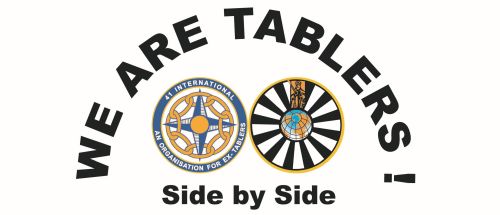 I am now getting ready to meet the RTI Board at the AGM in Nepal… more on this after my return from Nepal.

We are all Tablers!
YiT
Engelbert Friedsam
41 International President 2016 – 2017