Marchesi Room Opening Ceremony [Des Fulcher]
Des Fulcher – 41 Club National Councillor Region 17
22 August 2016
How & Where It All Began
The history of Round Table takes some unearthing, but now this special room has been named in honour of Louis Marchesi we can at least dispel the myth about where it all began way back in March 1927.
Known by many as 'Mark' Louis was reportedly the youngest Rotarian in the county when he first mooted publicly the need for a Young Men's Club at a Norwich Rotary Lunch meeting, having been called on by the President to speak briefly after a guest speaker had failed to turn up. What is not so well remembered is that when subsequently in February 1927 he put a resolution to a Rotary meeting proposing its formation, the resolution was defeated, provoking sufficient indignation in some quarters resulting in correspondence in the local "Eastern Daily Press". On February 12th 1927, writing under the nom de plume "service", a fellow Rotarian complained to the Editor:
"At the first real proposition put forward for doing something practical to foster social intercourse between young professional men, the senior body makes the excuse that such organisations already exist. With all due respects to the societies mentioned in the discussion I venture to assert that there is room for a club such as outlined by Mr. Marchesi. Why should not a Junior Rotary Club be formed irrespective of the senior's discouraging defeat of the resolution? They really must 'practice what they preach' if we younger folk are to believe them sincere in their resolves"
But by this time events were moving swiftly, regardless of the apparent reticence in some quarters. Records of a meeting to discuss "the proposed Young Business & Professional Men's Club" held on 22 November 1926 may still exist somewhere. At this meeting it was recorded that an unnamed Rotarian had offered to bear the expense of hiring Suckling House for six months for meetings; although an identical offer was also made for a room in the YMCA and a decision was not taken until some time later.
Many members of the Round Table Family organisation, especially older generation ex-Tablers and those who have joined the Continued Fellowship 41 Club, if asked, would probably nominate 'Mark' as the man who conceived the name "Round Table" for the new club – but again credit should go to the first Honorary President of Norwich Table, W.Lincolne-Sutton, as an extract from records testifies:  "Mr. P.V.Howes asked if it were not possible to incorporate the words 'Norwich & Guild' in the title of the Club. The Chairman (Mr. W.Smith) pointed out that the name was not definitely fixed and members could suggest names to the Committee to be elected later for their consideration. Mr. W. Lincolne-Sutton put it as a suggestion that some such name as "The Round Table" be adopted".
(an extract of Minutes from the meeting 21st February 1927 at Suckling House) This suggestion was adopted unanimously by the committee for ratification by the General Meeting. In true Table tradition there is no subsequent mention that such ratification was ever formally given; the name just seems to have stuck.
The Marchesi Room
Created as part of the redevelopment of the buildings which Cinema City operates from, the Marchesi Room has been named in honour of Round Table Founder Louis Marchesi.
In addition a specially designed oak cabinet with glass viewing panels has been made and given pride of place at the foot of the new access stairs, a plaque to recognise clubs and individuals who made donations towards the overall project shortfall will also be placed above the cabinet.
Round Table Family organisation clubs can hire the Marchesi Room for meetings with food and drinks, to check availability contact Cinema City direct.
I sincerely hope you enjoyed reading this newsletter which contains a certain amount of factual information, much of this originally written by Nick Butcher (a former Chairman of Round Table Norwich No1), and some which members will continue debating for many years to come.
Yours in Continued Friendship
Des Fulcher
41 Club National Councillor Region 17
region17@41club.org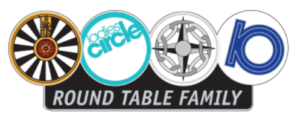 Suckling Hall
as it is today
The First Official Meeting
"ANNUAL SUBSCRIPTION FOR ROUND TABLE WAS 10/6d WHEN THE ORGANISATION BEGAN IN 1927"
The Inaugural Meeting of Round Table was held at Suckling House on 14th March 1927 in the presence of the Lord Mayor and Sheriff of Norwich – both of whom, remarkably were under the age of 40. Although the importance of the occasion was  clearly appreciated, no formal minute or record survives of what took place, but some 70 people attended and were suitably fed and watered on arrival at a cost of 6p per head. The subscription to the new club was 10/6d. And within a year membership had risen to 95 members: an indication that the idea had well and truly caught on, very much with the help of Rotarians who nominated suitable members; but also suggesting with such large numbers the character of the early meetings must have been much more formal and serious than the closer-knit smaller gatherings which take place now. Certainly the 1927 programme could hardly be criticised as facetious:
September 26th – The place of Accountancy in Commerce
October 10th – The need for Economy
October 24th – Amateur and professional sport: a comparison
November 21st – Mechanical Transport
December 5th – Aviation: Local Possibilities
December 19th – The Fishing Industry
What response might a Table Chairman invoke nowadays by introducing a talk on the Fishing Industry for the last meeting before Christmas!