President 41 International – AGM Cyprus [Engelbert Friedsam]
Dear Tablers,
Because of change of the original date for the 41 Club Cyprus AGM it was possible for me to join the AGM 24th – 26th June in Nicosia. Makarios picked me up at thw Larnaca airport  Thursday evening. We used the time to get aligned on a few topics and took it easy. As a surprise we went together with The Chairman of 41 club Cyprus Pavlos Xenophontos and Vice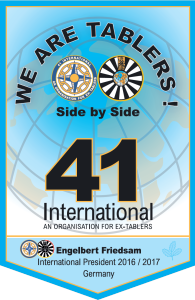 Chairman Petros Ioannou to Pafos to join the induction ceremony of 6 new members to RT Pafos. The start was easy going and Tablers arrived slowly as expected. At the end there was a full house where about 40 Round Tablers and 41ers from several clubs joined this evening. Already there 41 Cub Cyprus and RT Cyprus showed the spirit to have a great get-together of young and old…  Round Table and 41 Club joining up and have fun together! The induction ceremony turned out to be a fun event similar to a team building event, where the 6 candidates had to answer questions and the answers where commented and rated by a jury. No matter if an answer was correct or not there was always a round of drinks to be managed. You can imagine what comments have been made by the experienced jury members on the answers and also the accompanied drinks… Everybody enjoyed and had a wonderful time together, exactly what we promote from a 41 International point of you to enhance relationship and joint activities to build a strong team on club level and beyond.
On Saturday the 41 Club business meeting was happening at the same hotel and same time where the Tangent- and LC–Meetings took place. I had the honor to address all meetings, which was valued by the audience particularly pointing towards the side by side approach. In my address speech to the 41 Club audience I specifically pointed out what great work Makarios has but into 41 International to move the organization forward along the strategic plan we have agreed and implemented over the past 3+ years. I also addressed the great support from his home country organization in all aspects and applauded to this achievement. In this context I pointed out that we have now proof that smaller countries / organizations can master such a demanding role of our international organization. This should motivate other small countries to apply for this in the future. The business meeting was held in Greek, so not easy for me to follow… During the meeting at a certain point a heated discussion started about a topic that was pointing towards Makarios. I got a bit worried… It took a few speakers and 20 minutes to obviously  achieve agreement. Then silence for a moment… Everybody stood up and a storm of clapping hands pointed towards Makarios…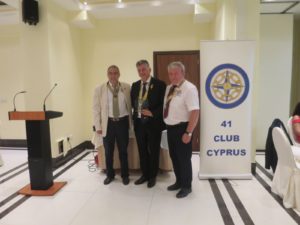 At that point I started to understand! 41 Club Cyprus had formally decided to honor the great international work and the achievements my friend Makarios had done during his years in the international world by electing Makarios Charalambides "Lifetime National Honorary President of 41 Club Cyprus"!! What a surprise, what an honor… and yes, Makarios truly deserves it. It is a great recognition and great to see that the home organization is proud and values what Makarios has achieved in his 41 International Presidents year.  By the way the discussion was about what honor should be given: "Honorary Member of 41 Club Cyprus" or the best what can be given by a national organization "Honorary President of 41 Club Cyprus". The heated discussion was just about this… Uff,  relaxed and happy faces everywhere!
At the Gala Evening the well prepared official honor speech for Makarios was done by Pavlos. He asked me to add my sentiments to it. All this was received well and Makarios was emotionally taken – which from my experience usually does not happen to him easily J!
It has been a great weekend with the friends of Cyprus. I have seen a lot of good work happening between 41 Club Cyprus and Round Table Cyprus. It is a great example what can be done. Together we are much stronger!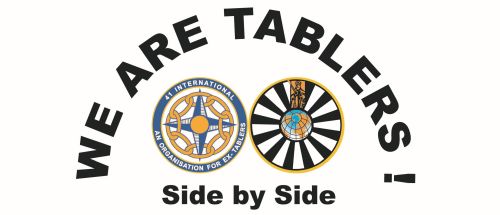 We are all Tablers!
YiT
Engelbert Friedsam
41 International President 2016 – 2017