President 41 International – 41 Club Austria [Engelbert Friedsam]
 23.06.2016
Dear Tablers,
After the AGM of 41 Club Netherlands followed the AGM of 41 Club Austria in Kufstein including the charter of 41 Club Kufstein. After a 6 hours drive by car Monika and I arrived on time at the welcome in Kufstein. All participants were in very good mood meeting and enjoying the great food and drinks. Quite some international associations made their way to Kufstein, so lot of contacts could be refreshed and information shared. Already at the welcome it was obvious that the Kufstein 41ers prepared a great event. All at it's best!
The business meeting was well prepared, so the 41 Club Austria President Guenter Kloimueller had a smooth going event. Very interesting was the decision on stopping immediately the printing of the 41 Club Austria member directory and only make the directory electronically available on the 41 Club Austria website. An overwhelming majority voted for this motion. It will be interesting what experience will be gathered through this approach. Maybe a direction other associations might go as well??
Picture Source: Michael Leitl, 41 Austria Kufstein (facebook)
In the special meeting with the boards of each association a more detailed communication on international matters is taking place. There is confirmation that we are addressing the right topics. Apart from the topics like working relationship and actions to improve I also explore the appetite for the discussion on a future common name of our organization. Up to now I have got lots of positive comments to address this in the workshop at the next 41 International HYM in Bangalore. This will be a very interesting activity where we can share our opinion and decide on the next steps.
The traditional banner exchange of Club 41 Austria was done in the lobby/ bar area of the event hotel, where only a part of the audience could follow the action.  The gala evening over-delivered on all expectations. It started with a spectacular ride by the cable car up to the castle of Kufstein where we could enjoy a great view over the city embedded in the mountain panorama.  At the castle there was the champagne reception with the great view to the Alps. Very spectacular!!
The speeches and the handover of gongs were short, so dancing was started soon after dinner was finished. Harry Koller took over from Guenter Kloimueller. New Vice is now Johannes (Johnny) Weber. Harry and Johnny, all the best in your year!
The next visit report will be done on my visit to the 41 Club Cyprus AGM at Nicosia.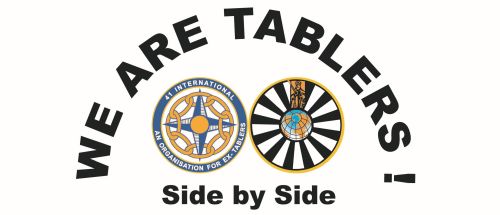 We are all Tablers!
YiT
Engelbert Friedsam
41 International President 2016 – 2017