FLOOD RELIEF – Note of Appeal – 41 Clubs – Sri Lanka [Romesh Fonseca]
41 Clubs – Sri Lanka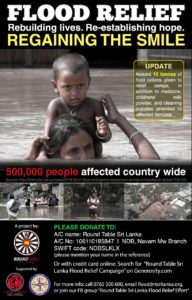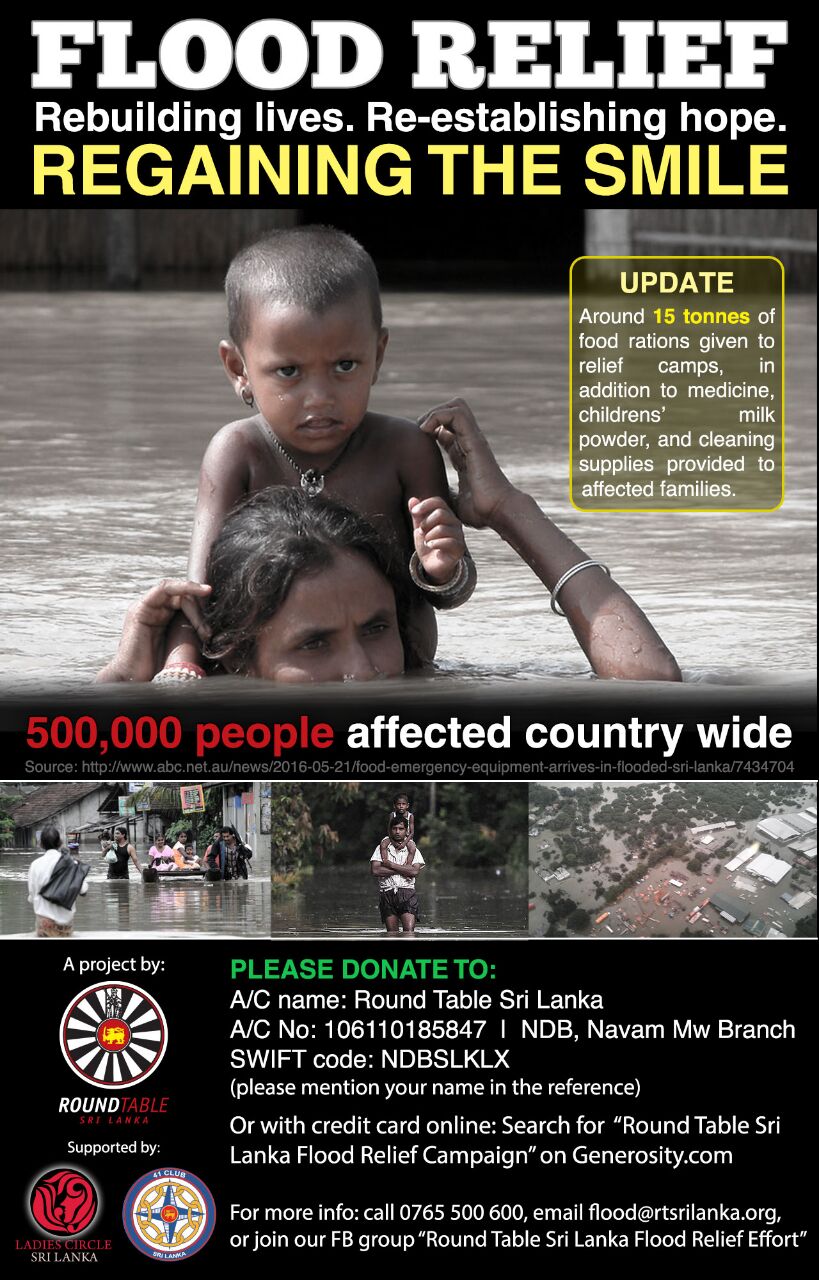 Romesh Fonseca
President 41 Clubs – Sri Lanka
+94 77 22 25716
romeshfonseca@archintl.com
Dear President Engelbert,
Greetings from 41 Clubs Sri Lanka.
As you are aware Sri Lanka was recently hit by one of the worst floods to affect the country in the past few decades. Many homes were under water, business destroyed and livelihoods shattered.
Over 500,000 people were affected by this natural disaster; the majority of them being low income families who had invested much of their life savings into small business ventures or built small homes in the only plot of land which was affordable for them.
Under the "Side by Side" banner Round Tabe Sri Lanka together with 41 Clubs Sri Lanka took the initiative in the early hours of this disaster to start a flood relief project. This project revived the Regaining the Smile brand, our proud moniker for our Tsunami project. We began Phase 1 of the project by supplying cooked meals to displaced families in some of the worst affected areas through camps manned by the armed forces and overseen by a tabler. We then shifted to providing dry ration packs, distributed through the government to families returning to their homes, overseen by 41 Clubs member and a tabler. We were told that if it had not been for Round Table, these relief camps would not have been able to operate in the initial days.
However, while the water levels have mostly receded, families are struggling to return to their homes and rebuild their lives. Based on feedback from the front lines, we have identified the requirement for Phase 2 as providing basic comforts for families to be able to have a decent place to sleep. This is especially of concern to parents whose children are now restarting school, yet have no proper place to sleep, and continue to be traumatized.
Our target for this phase is to provide basic foam mattresses and pillows to 5,000 flood victims, to the value of Rs. 8,250,000 (approx. $56,000). We have negotiated a reduced cost of Rs. 1,650 (approx. $11) for a set (one mattress and one pillow) for one person. We have tablers and 41 Clubs members at the front lines ensuring that the items are properly and efficiently channelled to the neediest people.
We were delighted to learn that 41 Clubs International would also like to contribute to our endeavours to help these flood victims. Round Table Sri Lanka together with 41 Clubs Sri Lanka has appointed a separate committee to handle this project with myself, Round Table Sri Lanka Project Convenor and Ladies Circle Sri Lanka incoming President also included.
Please find attached the Flyer that can be sent out to 41 Clubs internationally under your guidance.
Further, Please find our bank details below for the funds transfer with is also included in the Flyer:
A/C name: Round Table Sri Lanka
A/C No: 106110185847
Bank: National Development Bank (NDB), Navam Mw Branch
SWIFT code: NDBSLKLX
Once again, we greatly appreciate the support extended by 41 Club International. Please don't hesitate to contact me if any further details are required. Yours sincerely, Romesh _
Romesh Fonseca
President 41 Clubs – Sri Lanka
+94 77 22 25716
romeshfonseca@archintl.com