41 AGM Landshut 2016 summary – news, reviews, presentations, downloads, pictures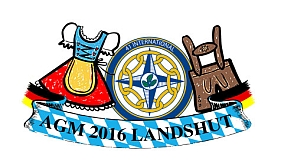 NEWS
With this humorous film, 41 Clubs Belgium applied for the international presidency of 41 Clubs in 2019-2020. You'll discover both the highlights of our little […]
0 comments
downloads
Dear friends,
President OTD Rudi, AGM 2016 Convenor Christoph, OT 153 Landshut President Karsten, RT 153 Landshut Alexander, members (Ladies & Gentlemen) of the Organizing Team 41 International AGM 2016 and all OTD members.
It has been a wonderful weekend at Landshut to the 41 International AGM 2016 and I would like to express my gratitude and sincere thanks for your exceptional Bavarian hospitality and thank you for all of the great memories.
The pre-tours, the Sid's cycling Tour for the Board members and friends along the river Isar and the welcome Bavarian party at the Landgasthof Hahn on Friday, the AGM Conference, the lunch at the Gasthf zur Insel / Augustiner, the Banner exchange at Hotel Isar-Residenz, the GREAT Gala Dinner at Bernlochner on Saturday and the Farewell at Michel hotel on Sunday, were very well organized in the spirit of friendship and fellowship.
Congratulations to the event Convenor Christoph and the guys and ladies of OT & RT 153 Landshut, who worked for this excellent event, the best in all aspects ever, in the history of 41 International.
A big Bravo and appreciation to all of you for fulfilling more than expected and worked really hard to make us feel welcome, to please all of us and go beyond our expectations.
I will treasure the memory for the rest of my life.
Yours in Continued Friendship and Tabling
Makarios Charalambides
41 International President 2015 – 2016